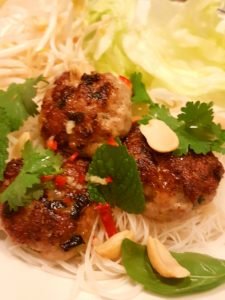 Ingredients

500g (1 pound) pork mince

4 spring onions, finely sliced

1/3 cup fish sauce

1/4 teaspoon fresh ground black pepper

4 cloves garlic, crushed

Juice of 2 limes

1/2 cup soft brown sugar

1 long red chilli

Mint and coriander (cilantro) leaves, to serve

lettuce leaves, to serve

2 cups bean sprouts

200g (7 oz) packet vermicelli rice noodles

1/3 cup roasted peanuts
Comments
Delicious and fragrant pork patties with noodles, herbs and a tangy, sweet and salty dressing. Great in the lunch box too.
Pairs well with …..
Bean sprouts, lettuce and herbs
Hints and tips:
Substitute the pork for chicken thigh mince (breast may be a little dry).
Combine the pork, onion, 2 tablespoons of the fish sauce, half the garlic and pepper in a bowl and mix well.
Divide the mixture into tablespoon sized balls and shape into small patties using wet hands.
Place in the refrigerator for 15 minutes to chill.
For the dressing, combine the lime juice, remaining fish sauce, chilli, sugar, garlic and a little water (¼ cup) in a small bowl and set aside.
Preheat oven to 160C (320F).
Heat a frypan over medium heat, add the vegetable oil and cook the patties for a minute or two on each side until they have a nice colour.
Transfer to a baking tray and place in the oven for around 5 minutes, until cooked through.
Soak noodles (as per the packet directions) in boiled water until softened.
Serve the patties on a bed of noodles, drizzled with dressing and garnished with mint, coriander, bean shoots, lettuce and peanuts.