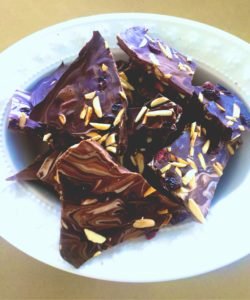 Ingredients

200 grams (7 oz) of dark (70%) chocolate

200 grams (7 oz) of milk chocolate

200 grams (7 oz) of white chocolate

1/2 cup of slivered almonds, toasted

3/4 cup of cranberries

1 cup of water
Comments
These are perfect to serve with coffee after Christmas lunch or dinner.
Hints and Tips
Replace almonds with chopped hazelnuts for a crunchier texture.
Firstly, line a large baking tin with baking (parchment) paper.
Put the dark, milk & white chocolate in three separate heat proof  bowls.
Place the water in a pot and bring to the boil.
Once the water is boiling, turn the heat down to medium and place the bowl with dark chocolate over the heat, ensuring the water doesn't touch the bottom of the bowl as this will split the chocoalte mixture.
Once the chocolate starts to melt, whisk continuously until the chocolate has melted and is a smooth & glossy consistency.
Set and aside and repeat with the milk and white chocolate.
Pour the dark chocolate in one end of the pan, then add the white chocolate to the middle of the pan and lastly, add the milk choclate at the other end.
Sprinkle over the nuts and cranberries.
Take a skewer run it through the mixture in a zig zag motion.
Place in refrigerator for at least 2 hours to set.
Remove from the refrigerator and break into shards and serve immediately.