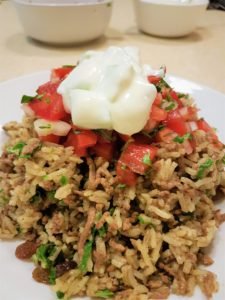 Ingredients

500 grams (1 pound) beef mince

1 tablespoon mild curry powder

1 teaspoon ground cumin

1 teaspoon ground cinnamon

1/2 teaspoon salt

1 cup basmati rice, rinsed and drained

2 1/2 cups chicken stock (broth)

1/3 cup sultanas

1/2 finely chopped parsley

1 tablespoon olive oil

1 cup Greek yoghurt, mixed with peeled and chopped cucumber
Comments
Very mild yet tasty flavours, this dish will appeal to all palates.
Pairs well with …..
Warm naan bread, poppadoms or served in lettuce leaves
Tomato salad

2 tomatoes, finely chopped

1/2 white onion, finely chopped

1 tablespoon coriander (cilantro) finely chopped
Hints and tips:
Basmati rice is a fragrant rice commonly used in Indian cooking.
Heat an ovenproof saucepan to medium high heat. Add oil and beef mince and brown mince, breaking up with a wooden spoon as it cooks.
Add cumin, curry powder and cinnamon and stir to combine. Add rice, cook for one minute and pour in chicken stock and salt. Bring to boil, cover and transfer to oven. Cook for 20 – 25 minutes, until rice is cooked.
Combine chopped tomato, onion and coriander in a small bowl and set aside.
Remove rice pilaf from oven and stir in parsley and sultanas. Serve with tomato salad and yoghurt and cucumber.