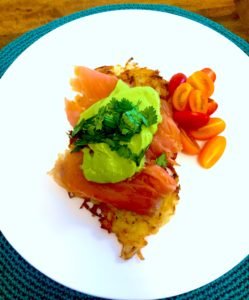 Ingredients

1kg (2 pounds) of waxy potatoes

1 red onion, grated

1 egg, lightly beaten

2 tablespoons of olive oil

300 grams (10 oz) smoked salmon

Mixed tomatoes & chopped coriander (cilantro) to serve
Comments
This dish is perfect for brunch or a light dinner.
Avocado Cream

1 large ripe avocado

2 tablespoons of natural greek yoghurt

Juice of half a lemon

salt to taste
Hints and Tips
Only use waxy potatoes such as Red, Royal Blue or Pontiac for the rosti.
For the rosti, grate the potatoes with a box grater and wrap in a tea towel and leave for 10 minutes.
Squeeze as much water as possible out of grated potatoes and place them in a large mixing bowl.
Now grate the onion and add that to the grated potatoes along with the beaten egg and salt & pepper.
Mix together until well combined.
Heat oil in a large fry pan and add a quarter cup of the potato mixture to the pan and flatten with spatula.
Cook over a medium heat for about 4-5 minutes each side.  Remove from pan and keep warm.
Repeat with reamining mixture.
To assemble, place two rostis on a serving plate & top with smoked salmon & avocado cream.  Serve with a side of mixed tomatoes and sprinkle with coriander (cilantro)
To make the avocado cream, place all the ingredients in a small food processor and blitz until you have a smooth and creamy texture.