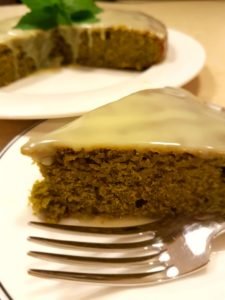 Ingredients

125g (4.4 oz) unsalted butter

2 eggs

1 egg yolk

170g (6 oz) caster (superfine) sugar

175g (6.17 oz) plain flour (all purpose)

1 tablespoon matcha powder (green tea powder)

1/2 teaspoon baking powder

White Chocolate Ganache:

185g (6.5 oz) white chocolate

1/2 cup cream

15g (1/2 oz) unsalted butter
Comments
Matcha, or Green Tea Powder is a popular Japanese ingredient with a rich, distinctive flavour. Beautiful with white chocolate ganache. 
Pairs well with …..
Honey Ice cream 
Hints and tips:
Find matcha powder in Asian grocery stores or health food stores.
Heat a fan oven to 160C (320F).
Grease and line with baking paper a 20cm (8 inch) round cake tin.
Beat  butter and sugar with an electric mixer for about 4 minutes until light, pale and fluffy. Add eggs, one at a time & then add yolk, beating to combine after each addition.
In a separate bowl sift flour, matcha and baking powder. Add to the butter and egg mixture and stir gently with a spatula until just combined. Add one or two tablespoons of milk if a little thick and scrape into the baking tin. Place in oven on the middle shelf.
Bake for 30 minutes, or until a skewer comes out clean when inserted into the centre.
For the Ganache:
Break the chocolate into a bowl and set aside.
In a small saucepan, heat the cream until just boiled. Pour the cream over the chocolate, leave to sit and melt, stirring occasionally. Add pieces of the butter and stir gently until all melted and smooth.
Set aside to cool and then pour over cooled cake. As the ganache cools it will thicken slightly.
Note: Make 2 of these cakes, reserve some ganache to spread in the centre and press the two cakes together, then pour the ganache over the sandwiched cakes.