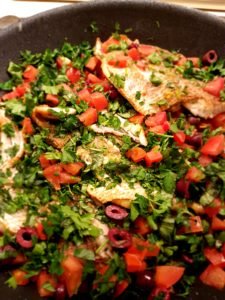 Ingredients

4 white fish fillets (snapper, bream, sea bass)

6 large ripe tomatoes, seeds removed and roughly chopped

1/2 cup black or green olives, pitted and chopped

1 small bunch flat leaf parsley, leaves roughly chopped

2 tablespoons capers, rinsed

1/2 cup basil, roughly chopped

1 lemon, juiced and zest (rind) grated

2 tablespoons olive oil, plus extra

Salt and fresh ground black pepper
Comments
Everything in one fry pan, the combination of tomatoes, olives, lemon and herbs is very colourful and enticing
Pairs well with …..
Steamed rice and crusty bread
Hints and tips:
Use prawns instead of fish fillets and add some crumbled feta.
Heat a large non stick fry pan on medium-high heat and 2 tablespoons olive oil and add fish fillets, seasoned with salt, skin side down.
Cook for 2 minutes and gently turn, cook for another 1 minute and add tomatoes, olives and capers. Turn heat down to medium-low and cook until tomatoes are slightly softened and fish is cooked.
Drizzle a little more olive oil, add the lemon juice, zest, some sea salt flakes and pepper. Sprinkle the herbs, pushing some down into the sauce, allow flavours to permeate for a moment, then serve with steamed rice.