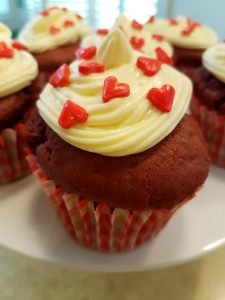 Ingredients

1 1/2 cups of self-raising flour

1 cup of sugar

1 teaspoon of bicarbonate of soda

200 grams (7 oz) butter, melted

1 cup of buttermilk

2 whole eggs + 1 egg yolk

1 teaspoon of vanilla extract

2-3 teaspoons of red food colouring
Comments
Once you've eaten this delicious cupcakes you are bound to fall in love!!
Cream Cheese Icing

250 grams (8 oz) cream cheese

2 cups of icing (confectioners) sugar, sifted

40 grams (1.5 oz) of butter

1 teaspoon of vanilla extract
Hints and Tips
These cupcakes keep for 3-4 days in an airtight container in the refrigerator.
Pre-heat a fan-forced oven to 160C degrees (320F degrees).
Line a muffin tray with 12 cupcake cases.
Place the self-raising flour, cocoa, bicarbonate soda and sugar in a large bowl and combine well.
Once the melted butter has cooled, transfer to a small bowl and add the buttermilk, vanilla extract and eggs and whisk to combine.
Make a small well in the centre of the dry ingredients and fold in the wet ingredients.  Once the mixture is almost combined, add the red food colouring and continue mixing until well combined and even in colour.
Place two heaped tablespoons of the mixture into the cupcake cases and bake for 15-17 minutes.
Transfer cakes to wire rack to cool completely before icing.
Cream cheese Icing
Using an electric mixer, beat cream cheese then add the icing sugar, butter and vanilla extract and beat until light & fluffy.
If the icing mixture is too thick a teaspoon of water.